SideLine is a 2D side-scrolling shooter for DOS computers, created in the mid-90's by a Taiwanese group called EMAG (Electronic Music and Animated Graphics, also GAME backwards). EMAG was born when a group of people, some of them students in Taiwan's National Chiao Tung University, gathered together and pursued their dream of creating games. Most members had never developed games nor run a company before, so they learned by doing. SideLine was their first game but it sold poorly and soon EMAG was barely able to remain active, only supported by its later games 3DCop/ADCop and BonBon Paradise, both light gun games. Soon most members left and established a new company, and EMAG closed soon after, having created only three games.
Some time after SideLine's original 1996 release it received a very limited western release in Poland. A company called Union Systems localized the game with Mirage Software publishing it. The print run was only 3000 (or possibly as little as 1500) copies. Though the companies contacted other publishers hoping to release it elsewhere as well, nobody was interested. The Sony Playstation was released just a short while earlier and mainstream gaming had little interest in the "old-fashioned" 2D shooting games that were so prevalent in the Super Nintendo and Megadrive/Genesis days. The game was left to obscurity, known only to few.
16 years after the game was first released a Spanish online blog Retro Maniac Magazine wrote an article about the game's demo version, leaving many wondering if the game's full version would ever surface. Some months after that the Polish release was indeed found and many gamers were finally able to try the game out for the first time. A recent interview to the same online blog sheds a bit more light into EMAG's story. The company also has an official Facebook group now.
In October of 2013 we received permission from the game's producer Jiun-Ming "Jimmy" Hwang to distribute SideLine's original version as long as no profit is made for it. We hope you enjoy it as much as we have.
Here are some screenshots from the game: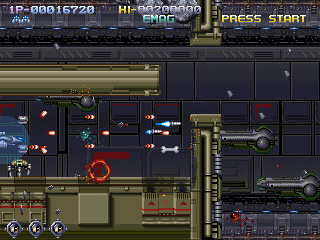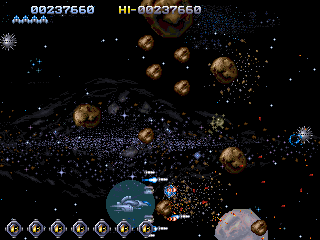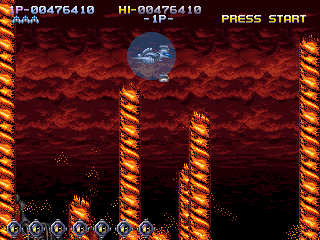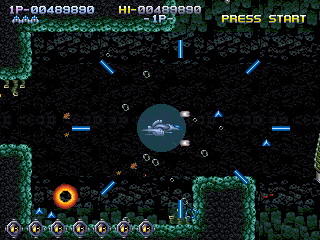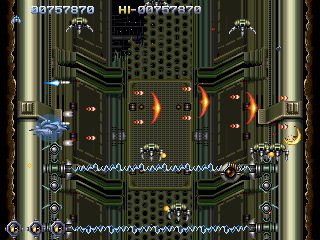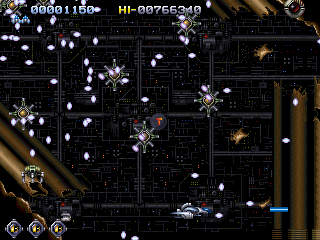 The game is not only good for its time, but is a good representative of the 2D shooting game genre as a whole that's still fun to play today. There's a good variety of weapons, the stages are fun, the bossfights will keep you on your toes...if you are a fan of games like R-Type and Gradius, you'll feel right at home with SideLine. The game even has a simultaneous two-player mode, which not many DOS 2D shooting games can say.